Codex Executor V11
We're here to make your Roblox gaming experience amazing! Roblox is all about having fun in different virtual worlds, and we want to help you have even more fun. That's why we created CodeX Executor, a cool tool that lets you do more exciting things in Roblox games. It's like having superpowers in the Roblox universe! Plus, we've worked hard to make sure it's safe, easy to use, and we're always here to help. Let's dive into the world of Roblox with CodeX Executor!
Table of Contents
What Is CodeX Executor?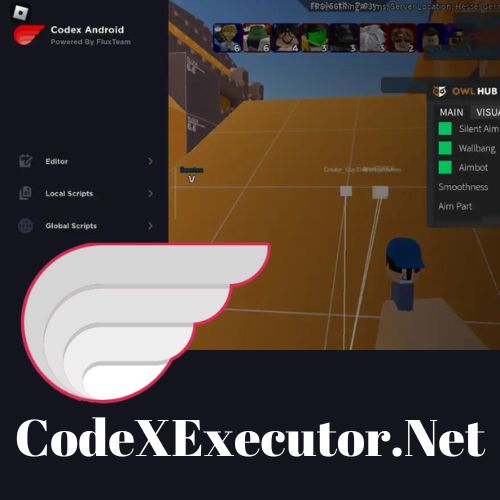 CodeX Executor is a potent application designed to empower Roblox players by allowing them to run scripts within popular Roblox games such as Blox Fruits, Pet Simulator X, Project Slayers, Murder Mystery 2, Adopt Me, Arsenal, and many more. Unlike other Roblox exploits, CodeX stands out for being not only 100% free but also boasting an intuitive and user-friendly interface.
With CodeX, the process is straightforward: download, install, and launch the executor. However, please note that you'll need to obtain the CodeX Executor key to access its full functionality, a step we'll guide you in below. Explore the capabilities of CodeX Executor and elevate your Roblox gaming experience to new heights.
How to Download CodeX Executor
Downloading CodeX Executor is a straightforward process when done through its official website. Avoid third-party sources to ensure your safety. Here's a step-by-step guide to downloading CodeX Executor:
Step 1: Start by visiting CodeX Executor's official website at CodexExecutor.net.
Step 2: Once on the website, scroll down to explore the available options.
Step 3: Look for the "Download" button and click on it.
Step 4: Clicking on the "Download" button will redirect you to the main download page.
Step 5: On the main download page, you'll find detailed instructions for downloading and installing CodeX Executor.
Step 6: To initiate the download, simply click on the "Download Now" button.
Step 7: Your device will begin downloading the APK file as soon as you click "Download Now."
Step 8: Once the download is complete, proceed to install the application.
Now, you're ready to enjoy the features and capabilities of CodeX Executor on your device. Be sure to follow this official download process to ensure your safety and the authenticity of the software.
How to Install CodeX Executor on Mobile
Installing CodeX Executor on your mobile device is a straightforward process. Since you're not downloading it from the Google Play Store, you'll need to enable the "Install from unknown sources" option. Here's a step-by-step guide to installing CodeX Executor on your mobile device:
Step 1: If you haven't already, download the CodeX Executor APK from its official website (CodexExecutor.net).
Step 2: Once the APK file is downloaded, navigate to your device's download folder.
Step 3: Locate the CodeX Executor APK file in the download folder.
Step 4: Tap on the APK file to initiate the installation process.
Step 5: A pop-up message will appear with the option to "Install." Tap on "Install" to proceed.
Step 6: The application will begin installing on your device.
Step 7: After the installation is complete, you can launch CodeX Executor.
Step 8: Upon launching the application, you'll need to obtain the CodeX Executor key, which we'll explain in a later section.
How to Get CodeX Executor Key
To unlock the full potential of CodeX Executor, you'll need to obtain a unique key. Follow these steps to acquire the CodeX Executor key:
Step 1: Visit the official CodeX Executor key website at CodexExecutor.net/key/.
Step 2: On the key website, locate and click on the "Get Key" button.
Step 3: After clicking "Get Key," a window will appear on the screen, presenting you with two tasks: "Allow Notification" and "Read Suggest Articles."
Step 4: Simply tap on both options; you don't need to read the entire articles or take any further action.
Step 5: Once you've completed these tasks, return to the same page.
Step 6: The tasks will be automatically marked as completed after a short duration.
Step 7: Click on the "Done" button to confirm.
Step 8: After that, click on the "Proceed" button, and you'll be guided through the Linkvertise steps.
Step 9: Follow the steps provided during the Linkvertise process.
Step 10: Once you've completed these steps, you will receive the CodeX Executor key.
Advantages of CodeX Executor
CodeX Executor comes packed with numerous advantages that set it apart from other Roblox exploits. Here are the key benefits and distinct advantages of using CodeX Executor:
Premium Features:
CodeX Executor offers a rich set of premium features, providing Roblox players with enhanced capabilities, scripts, and tools for a more immersive gaming experience.
Secure:
Your data and privacy are paramount. CodeX Executor employs state-of-the-art encryption technologies to ensure the safety and security of your personal information and gaming data.
Support:
Enjoy 24/7 customer support to assist you with any queries or issues you may encounter while using CodeX Executor. A dedicated support team is always ready to help.
Regular Updates:
CodeX Executor is committed to staying up-to-date with the latest features and technologies. Regular updates ensure that you have access to the most current tools and functionalities.
Industry-Leading Performance:
As a leader in the Roblox exploitation industry, CodeX Executor guarantees top-notch performance. Count on it for smooth gameplay and seamless execution of scripts.
Unrivaled Execution:
CodeX Executor offers exceptional support for a wide range of essential libraries and packages. This support ensures smooth development and gameplay, allowing you to focus on enjoying your gaming experience to the fullest.
Script Hub Integration:
CodeX's Script Hub provides a one-stop destination for a vast selection of games and scripts. Say goodbye to the inconvenience of searching through third-party sites – with CodeX, you have immediate access to a wide variety of scripts, saving you time and effort.
Enhanced Flexibility:
CodeX Executor's versatility allows you to adapt scripts to your specific gaming preferences. Customize and fine-tune scripts to suit your gameplay style, giving you a unique edge in the Roblox world.
Cross-Platform Compatibility:
Whether you're gaming on Android, iOS, or Windows, CodeX Executor ensures a consistent experience across different platforms. Transition seamlessly between devices and continue your Roblox adventures without disruption.
Smooth Development and Gameplay:
With CodeX, you can focus on what truly matters – having a great time in the Roblox universe. The robust framework and optimization of CodeX Executor result in smooth script execution, reducing lags and enhancing gameplay fluidity.
FAQs
What is CodeX Executor, and how does it work?
CodeX Executor is a Roblox exploit that allows players to run scripts in popular Roblox games. It enhances gameplay by providing access to scripts and tools that can modify in-game experiences.
Is CodeX Executor free to use?
Yes, CodeX Executor is completely free, making it accessible to a wide range of Roblox players.
Can I use CodeX Executor on mobile devices?
Yes, CodeX Executor is available for both Android and iOS devices, allowing you to enjoy its features on the go.
How do I download CodeX Executor safely?
What precautions should I take when downloading CodeX Executor?
Avoid downloading CodeX from third-party websites to prevent potential security risks. Always use the official website for downloads.
How can I obtain the CodeX Executor key?
You can get the CodeX Executor key by visiting the official key website (https://codexexecutor.net/key/) and completing simple tasks as outlined in the article.
Is CodeX Executor safe to use, and will it compromise my Roblox account?
CodeX Executor is designed with security in mind. However, always exercise caution when using exploits, and be aware of potential risks associated with third-party scripts.
What advantages does CodeX Executor offer over other Roblox exploits?
CodeX Executor provides premium features, robust security, 24/7 support, regular updates, industry-leading performance, and a user-friendly interface. It also boasts extensive library support, a Script Hub, and cross-platform compatibility.
Can I customize scripts with CodeX Executor?
Yes, CodeX Executor allows for script customization, enabling you to tailor scripts to your specific gaming preferences.
Is CodeX Executor compatible with different platforms?
Absolutely, CodeX Executor is designed to work seamlessly across Android, iOS, and Windows platforms, ensuring a consistent experience for users.